While I'm no fashion guru, I am pretty confident in my sense of style. As such, I thought I'd share with you my top 10 fall trends for 2014, the things I covet and the looks I plan to emulate in my own life. (It's worth mentioning that these exact products are not in my wardrobe yet, but I do own some similar items and am looking for some of the more inexpensive options I'll share here.)
1. Riding boots - I have worn my black ones from last year to death and don't really like my brown ones; this pair combines the two colors at a single cost. Plus, I think they really look sleek and high end - sort of like the old Ralph Lauren ads, right?
2. Motorcycle jacket - Isn't this super cute? I'd love to have real leather like this example from Macy's, but I prob can't really afford that. I'll likely have to go with a faux version instead. I still really like this style though, and I'm glad to see that lots of these jackets are now offered in XXL for busty girls like me. :)

3. Purple dotted down vest - I need this in my life for football season. Not only is it adorable, but it'd keep me warm while sporting my school colors. Plus, I never met a dot that I didn't like. (I even think it's on sale right now...)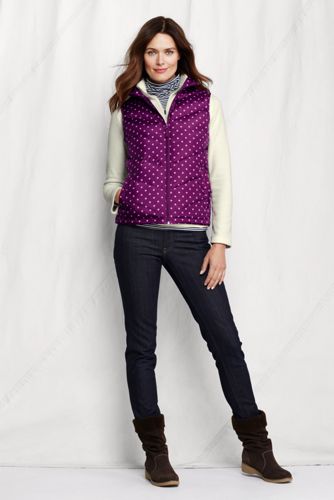 4. Denim shirtdress like this one from Land's End. I think it'd be super versatile since you could layer it and dress it up or down depending on the situation. Wouldn't it make a great travel dress too?
5. Tartan pants - I'm coveting these tartan pants from J. Crew. I'd prob wear them with a chunky sweater and some loafers for old school style though. I'm not a fan of them with heels - weird. Anyway, this speaks to my 80s girlish heart.
6. All of this, but especially the embellished sweater jacket. Oh my gosh, I love it. If you aren't familiar with the catalog Soft Surroundings, I recommend taking a look at it.
7. Ankle boots - tough looking with a reasonable heel like these. I love the buckle, love the height, love that they are a comfy brand. I have some brown booties that still work, but my black ones are all chewed up on the heel. These babies are calling my name.
8. Little red dress like this one from TJ Maxx - I love the lace detail at the bottom and the sheath style silhouette. I have lots of black dresses but no red ones; this little number would solve that problem.
9. Aztec inspired vest - I think this would make a great layering piece this fall. You could wear it over a solid dress or you could wear it with a long tunic/leggings or a shorter tee/jeans. I like that it wouldn't add a lot of warmth to days that sometimes still get hot here in the South.
10. Leather skirt - faux to keep it affordable like this one that was featured on
The Curvy Fashionista
. I don't know the site this is featured on, but I'd definitely love to find it. It's fabulous!
So there you have it - the 10 fall fashion trends that I'm lusting over at the moment. Anything strike your fancy?