The currently list for December 2014...
Listening
to
Uptown Funk
,
Don't
,
I'm Not the Only One
, and
Lips Are Movin'
. Yes, I'm unashamedly a fan of pop music, so judge me if you will.
Reserving
hotel and flights for my trip to Paris next summer. I just finalized the apartment I'm renting through
Airbnb
. If you're interested in using their service to either rent lodging for yourself or to list your lodging, please consider using me as a referral
www.airbnb.com/c/tlowder1?s=8
. (They have an incentive program for people who use their service.) I'm still working on flight arrangements and trying to decide if I'll stay for a month or six weeks.
Here's a pic of the sweet little studio I have reserved. It's a ground floor studio space with private bathroom and kitchen in a bustling neighborhood in Paris; I don't think it will be very touristy, so it should give me a rather authentic experience. I'm super excited about it, especially since there's room enough for some of my friends to come visit and stay with me if they'd like.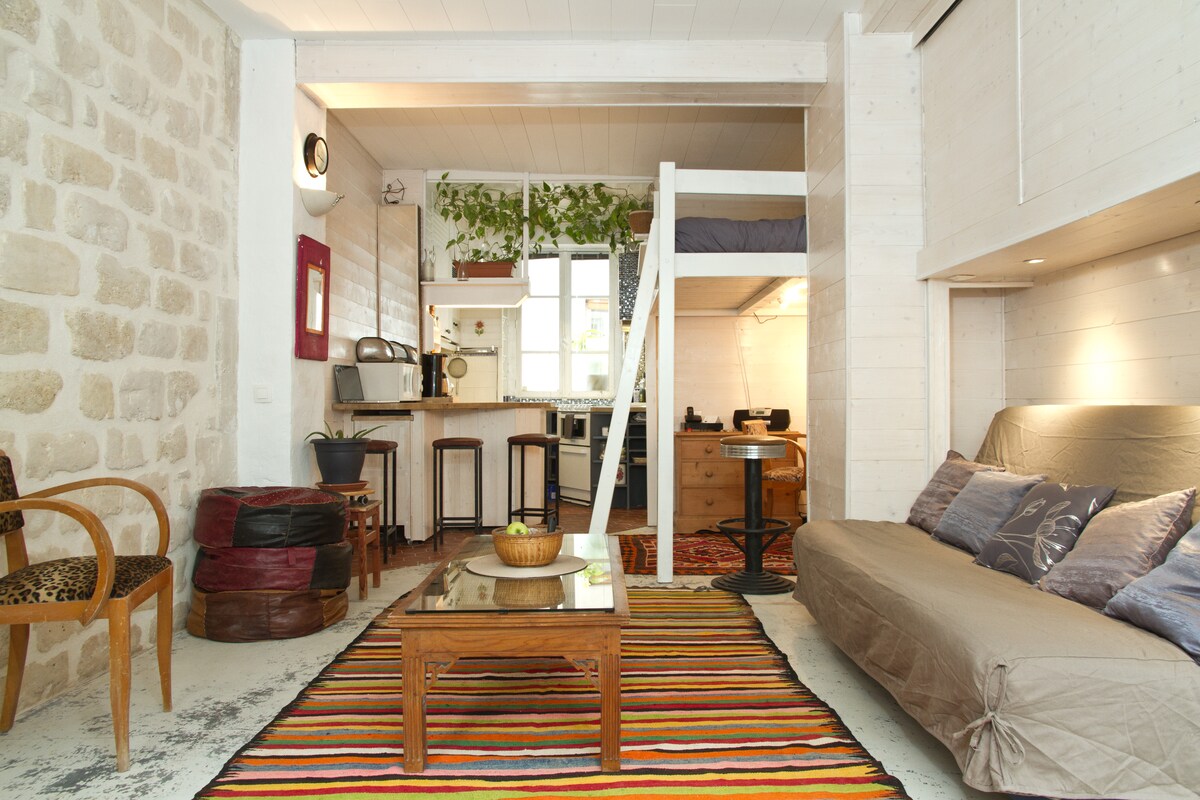 Shopping
for just a handful of gifts to finish up my Christmas list. I need two "nice" Santa gifts (as opposed to dirty Santa), some goodies for the pups, and one more thing for the fella. I'm feeling pretty good about having it 90% finished. I should finish those things this weekend and be able to avoid the mall the week of Christmas.
Planning
to wrap presents when I get home from work today. I dread it, but it must be done.
Figuring
out an insurance nightmare involving the payroll department at my job and my fsa from 2013. I despise working with insurance companies; have I mentioned that?
Watching
The Borgias
right now. I'm on season 3 and am already dreading the end of the series. It's very well-done. so I'd recommend it as long as a bit of violence, sex, and language don't bother you terribly. Even as a Catholic, I find the fictionalized tale of this infamous pope to be fantastic.
Thanking
my lucky stars that I have two and a half weeks of no work coming up - time to recharge and renew and relax. Maybe I'll even get crafty. :)
Wearing
lots of dresses and boots. Y'all prob already know that I prefer to wear dresses, and that's true even in the wintertime. Wearing boots with them means I don't usually have to bother with tights. (shudder!) Here are some dresses I love for your perusal...
I have several wrap dresses and absolutely love them. They're a great option for girls who tend to be curvy like me. The print on this one is fabulous.
Sheath dresses are a perennial favorite of mine too. I like this one with the unexpected color scarf. I have several print sheath dresses (wearing one now in fact), so I need to experiment with some different scarves to layer with them.
How cute is this combination! I love the simple sheath dress with the oxford layered underneath and the statement necklace on top. I have these things, so I need to experiment with this too. Wouldn't something like this be perfect for early spring?
Cleaning
out my little guest room that is currently filled with Christmas gifts and my large guest room that is currently filled with tons of clothes and shoes and stuff I generally don't know where else to put. With any luck, the little guest room will be finis tonight, so I'll only have the large guest room to work on over Christmas break. (And no, I won't be sharing pics of my mess with you...)
Trying
to motivate myself to eat better and get some exercise. I've been a slug for much too long. I'm not going to deny myself here at the holidays, but I could get off my a** and move the old bod a little bit.
What are the -ing statuses of your life? Bye chickies!