Here are a few of the things I love about fall...
1. Jackson's Orchard - peaches, apples, pumpkins, mums, weekend festivals, amazing cider, petting zoo, hayrides, giant slides, handmade crafts for sale...this place has it all. If you're within a couple of hours, I highly recommend a visit.
2. Football. Specifically high school football. I love my Purples and look forward to cheering them on every Friday night. I also have some former students playing for Western Kentucky University and might even make it out for a few of their games. Go Hilltoppers!
3. Snuggling. Whether it's with Lowder-dog or the fella, snuggling in on a crisp evening is something I definitely look forward to this time of year. It's not really cold yet, but it somehow feels right to curl up with some Netflix and your choice of companion to relax in the evenings. Ok, let's be real - I like snuggling ALL the time, but it feels especially right when the weather turns crisp. I'm counting the days until I can put my flannel sheets on my bed. ;)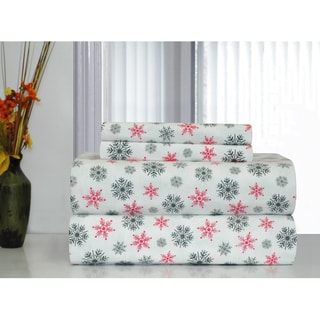 (My sheets are similar to this snowflake pattern but in red; I think I'll need some new ones this year though.)
4. Cozy, warm clothes without having to bother with a coat. Sweaters. Corduroys. Riding boats. Cozy scarves. Wool socks. Pullovers. These things make me very happy indeed.
Yep, I'll take one of each please.
5. Soups and stews. I love to have something simmering on the stove or yo come home to a delicious meal in my crockpot. Chili. Bean soup. Beef stew. Vegetable soup. Chicken tortilla soup. Coq au vin. Potato soup. Broccoli cheese soup. Chicken 'n dumplings. Man, I'm getting hungry just thinking about it. Would y'all like for me to share some of my recipes this fall and winter?
What do you love best about fall? If you haven't taken a listen yet, head on over to itunes or podomatic and tune in to our newest podcast
It's Fall, Y'all!